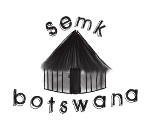 Annual reports

Annual plans
Annual plan 2010
Annual plan 2011
Annual plan 2015
Annual plan 2017
Annual plan 2018
Annual plan 2019

Annual reports
Annual report 2009
Annual Report 2010
Annual Report 2012
Annual report 2014
Annual report 2017
Annual report 2018

Financial reports
Financial annual report 2009
Budget 2010
Financial annual report 2010
Financial annual report 2011
Financial annual report 2012
Financial annual report 2013
Financial annual report 2015
Financial annual report 2016
Financial annual report 2017
Financial annual report 2018


Annual report 2012
Stichting ter ondersteuning van de Eerste Mensen van de Kalahari Botswana (SEMK Botswana)
Foundation supporting the First People of the Kalahari Botswana.

We have continued with:

Sale of second hand articles, self-made knitwear, second hand books and plants in the barn.
Sale of knitwear in Hoogeveen untill June 2012. This is discontinued because of failing sales. There has been a sale in Beilen, 1 x 1 day and 1 x 2 days. And in Westerbork 2 x 2 days. We participated twice in a jumble sale in Westerbork.
Research on resemblance between social structures in The Netherlands, Botswana, Namibië and South Africa, on how people support each other, specifically where disabled, elderly and sick people are concerned. Not much information has been gathered. Will be continued.




New: Research concerning Dutch Law "Support in Civil Society"

The aim of the Dutch Law "Support in Civil Society" is that the elderly and disabled people should solve their problems in first instance themselves. If they cannot, they should ask their relatives and friends for support, if that fails, their neighbors. If all fails, they can ask the municipality. In early days it was quite normal that people supported each other. So how did the Bushmen and other indigenous people support each other?



Journey into Botswana in April

Clothes, toys, kitchen utensils, educative material (puzzles, writing paper, pencils) have been taken. In Botswana food has been bought for the people in the CKGR. During the 8 day trip in the CKGR we were driven around by an acquaintance. The 8 days were shortened to 6 days, because the Park Officials told us we were not allowed to stay with the Bushmen in their settlements and told us to leave the CKGR. The remaining time of our journey we spend making contact with groups of Bushmen and aid programs for them.



Journey into Botswana August/ September

This trip I went alone. The contacts that had been made during the April journey were used to give help to several groups of people. Workshops knitting, crochet, wool spinning. Contact with farmworkers at a farm in Ghanzi has been made and some help has been given, materially and morally.



Education

A start has been made to enroll 1 student for a one year course to become a tourist guide and for another student for computer lessons. At the end of the year the application procedure had not been finished.



Incidental projecs

Money has been given to people in Botswana for incidental trips to assist people in need. Much contact has been made with people to keep in touch with new developments on a wide scale. Online newspapers in Botswana have been read.



Year plan 2013

The activities as they were in 2012 will be continued and shall be worked out more. Research will be done in what help people get from the government. The next journey into Botswana will be from 12 August till 16 September 2013.
There are 6 sales days planned in shops. During April special attention will be drawn to sales from our house. Sales on the internet will be continued. In February a presentation will be given to a group of women, combined with a sale.
Several plans for gaining money are in the make by a few volunteers.
We are working together with Gantsi Craft Trust in Ghanzi and Kuru Art Centre in D'Kar.

Corrie Scholtheis, februari 2013.