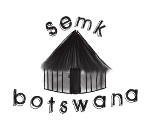 Report Handicraft course Nampol Vocational Training Center Molepolole Botswana

21 Augustus- 22 September 2017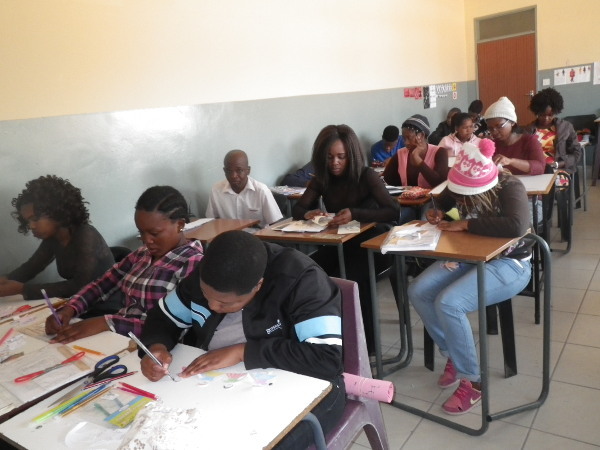 In spite that my stay in Botswana (from 10 August till 26 September) on the whole felt like pulling at a young, obstinate horse that kept going in the wrong direction, and if it did go the right way hesitated and did not continue, many good results have been achieved.
During the previous year I had prepared the lessons. Had thought of what would be beneficial for the students to learn, made the materials for it or bought them, found English children's songs which could be turned into plays and searched for riddles.
On 4 July I sent an email to the directors of Nampol to inform them the dates of my intended teaching period and to ask if this would fit into their teaching scheme.

"Dear S (director), The plan is that I shall arrive at Nampol on the evening of Thursday 10 August. Before leaving I will check if the bus still arrives at River Walk and let you know. On Sunday 13 August I am going to Ghanzi, and returning to Nampol Sunday afternoon 20 August. This depends on how things are going, I might return earlier.
From Monday 21 August I could assist in the Nampol pre school until Thursday 24 August. On Friday 25 August I will introduce myself to the students of the course, which probably will take an hour. From Monday 28 August until Monday 25 September I will teach the students. On Tuesday morning 26 September I will leave. That is, if you please can take me to the bus in Gaborone, if this is not possible I shall leave for Gaborone on the afternoon of the 25th.
Well, this is a plan, if you find there are inconveniences in it for Nampol, please let me know."

The answer came 20 July.

"Dear Corrie I am comfortable with your timetable me and K (director) will comfortable fit into it and be able to assist as per your plan. Look forward to seeing . We shall pick you by River walk. Thank you S"

4 July I have asked to send the list of students who had enrolled for the course.

"Dear S, I want to make the register-list of the students and the list for marking their works on my laptop here, as there still are some preparations to do for the lessons in Botswana, as I cannot do them here. So making the lists by handwriting will take too much time. It will be a hectic time in Botswana all the same, so I would be grateful if you could send me the names of the students that have enrolled for the course. Things went wrong the past two years because my administration was not in order and I do not want that to happen again.
Do you know in which room I shall be teaching? How many boarders will there be in September.

This list I received on 10 July. I placed the names in alphabetical order, divided them in two day and one evening groups. Behind the names I made a roster for a marking and attendance list. For the day groups I had placed students with the same name in a different group.
Wednesday 9 August. The journey went smoothly. At entering Botswana there were two rows of three tables, behind one row there were a few men standing, behind the other one a few women. They thoroughly looked through all the bags and suitcases. (Men are not allowed to search women's luggage and women not men's.) I got in a panic, as my suitcases were that efficiently packed, if they were searched it would take a long time to repack them. The bus would not wait for that. I told them to have been searched for drugs already in Amsterdam and Johannesburg. But that was not what they were looking for, they were looking for new articles that were smuggled into Botswana to evade import duty. I made a protest and a man was called over. After showing Nampol's invitation letter I was allowed to continue my journey.
Friday 11 August. On the way to the shops an expensive and neatly washed car stopped beside me. The driver asked me if I was Corrie. She was one of my students. She gave me a ride to the shops.
Back at Nampol I discovered to have received a wrong list with students names. A Nampol staff member was going to correct it. Had a peep in the preschool class, which was in a small, dark room. There were two children aged 2 years, one aged 5 and one aged 6 years old. Had a look at the playground. There were two brightly coloured metal slides, of which the bottom part had sharp edges where the children could hurt themselves on. Three swings that had no safeguard to prevent children to walk into the swinging children and a small wobbly merry-go-round, where they only could stand on and had to push themselves around with their legs. Around all this there was a high gate, with an open entrance. In the area around it there was a small roofless stone shed where the garbage was collected and burned, with a door that often was left open. Besides it was a heap of stuff that could not be burned. At night the stray dogs came to see if there was any food in it and dragged out the bags to pull them apart on the path besides the Nampol plot.
The plan to give cooking lessons during the weekends to boarding students I have cancelled after discovering there were 17 students. Cooking for that many students I found too much. Making snacks and drinks for the students during break I kept up for a couple of weeks. It was too tiring (getting up at 4.30 am to bake the pancakes) and was not appreciated by everyone. To make the tea and distribute the snacks two tables were placed in the corridor of the school-building, there was a bucket to fetch water (for tea and dish washing) from a tap outside the back of the school. One electric water kettle which had to stand on the floor because the plughole was very low in the wall (electric water kettles often are placed on the floor for this reason) and a large teapot, still too small for 28 students. It sometimes took 45 minutes to get everything ready. One weekend I was occupied making iced tea. They did not like it because they were not accustomed to it. So I stopped it. A disadvantageous effect of my good intention probably was that the two women who were selling fat cakes, chips and fried chicken outside the school gate had less sales.
Saturday 12 August. The staff member had printed the correct name-list of the students, but the letters were too large to fit on my list. She had placed the names only on the first character in alphabetical order. She promised to have it properly corrected by Monday.
Talked over my teaching schedule with teacher A (principal preschool department, and teacher V) and choose a classroom.
Sunday 13 August. Left for Ghanzi. As I was quickly finished with my business there I returned on Tuesday 15 August for Nampol.
Wednesday 16 August. On the new list of students names a few names were placed in alphabetical order, also a few with the second letter. I have explained how it really ought to be done. Students with the same name were put in the same group. Left it like that and cut out the names to stick them on the original list. It became very messy which bothered me until the end of the course. Making the new lists was stressful, because there were more preparations to be done. Went to the preschool class. There were two small plastic, wobbly tables and four chairs. The 5 and 6 year old ones tried to colour a picture, with just a few colouring pencils and crayons. This was made difficult by the toddlers, who were pushing against the table and tried with both hands to get as many colouring pencils as possible while the other two this also tried. They were more occupied with getting hold of the pencils then colouring their plates. There was a damaged bag with a few imitation Lego bricks and two damaged plastic dolls. There were pictures on the walls, suitable for 8 year olds. A qualified teacher from Zimbabwe gave directions to a class assistance. The teacher was going to Zimbabwe the next day to apply for a Botswana work permit. The class assistant would look after the children until her return. My advise was appreciated by both and the unsuitable pictures taken of the wall.
Thursday 17 August. Had a discussion with the director about the poor food the students (and I) were given. She asked if I wanted other food. I explained that this was not the point, apart from that the students would notice what I was given and they would not like it. The last would not be the case, she said, they knew older people eat different food from youth. She said that people of different ages need different kinds of food. It appears there is some superstition about nutrition, or she tried to hide the students did indeed not get sufficient food.
Friday 18 August. Just after 11 am the handyman and the cook came to tell me that the students had been waiting the whole morning for my introduction. I told them that this was scheduled for next week Friday. The two teachers also came with this message, They did not know who had done something wrong with the planning.
From the directors came the invitation to SEMK to join Nampol's Board of Governors. One advantage would be that SEMK as a representative of this Board would find it easier to enter Botswana. It did not seem a good idea to me, how can we see from The Netherlands what is going on in Botswana. I told them that I would discuss it with Henk.
I told the director about my idea to let the students make a show with the English children songs turned into a play. Did she agree with this. If so, could the show be held on 25 September. She thought it was a good plan.
Saturday 19 August. Did a lot of things, but nothing of importance happened.
Sunday 20 August. Went for a stroll in the vicinity. Have started drawing pictures for a pre school day schedule.
Monday 21 August. After breakfast students told me they were taking exams on the first days of my teaching period. Went to see teachers A and V to ask for an explanation. They were very surprised they did not know anything about my teaching schedule. ???? But this we had talked over on 12 August! They did not understand who had made a mistake in the planning. Teacher V suggested to take the exams in the afternoon, so my programme could go ahead. Teacher A and me agreed to that. But a little later teacher V asked if the programmes could be changed and would I teach a week earlier. And do my introduction this morning at 11 am. I could see the logic in it and agreed. But the consequence was there was only one hour to prepare for the introduction and arrange the classroom, and one afternoon to prepare the next day's lesson. The whole week I was behind my schedule, rushing to get all the materials on the students tables before they arrived. The director had discovered the show could not be held on Monday 25 September, this should be Friday 22 September. This meant one day less for teaching. The solution was according to the director to hold it Saturday 23 September. Advantage would be that the evening students did not have to take the day off. (Later it turned out that one day student had a Saturday job.) The director had not told the teachers about the change, so I did.
Tuesday 22 August. Group 1. Because the students are known to turn up late and on Mondays and Fridays sometimes not at all, I had announced that the classroom would be open at 7.15 am and lessons would start exactly at 7.30 am. I was surprised when at arriving at 6,45 am, with a temperature of 7 C, to find outside the building a student, huddled in a thick coat with hood. In total about six students arrived late. Several arrived at 7 am, most of them at 7,15 am. They still found it difficult to get back in time after break. They worked hard and talked a lot and loud. The last gave a lot of inconvenience because: the room was for 28 too small; the floor was tiled which gave a hollow reverberation. The table legs were made of iron and the chairs of plastic. When they were moved, which happened often as they were standing too close together, it gave a sharp deafening noise. At times we were disturbed by enthusiastically talking students in other classrooms. While giving a few students instructions for their work I had to check the other students to avoid they were talking too loud and I could not hear myself. In the evening class officially there were 10 students (but never more than six turned up) from 4.30 pm till 5.15 pm. After that they went to their regular lessons. Usually I arrived at 3.45 in the classroom. (Apart from once, when my clock had stopped and I set it one hour late.) In three quarters of an hour one cannot teach a lot. Also, some students came from far, and also due to their job often late. In spite of me not understanding the benefit of these short lessons, the students wanted me to continue.
The morning class started with making a diary in which to write their homework and things they had to bring for the next lesson, from four A4 sheets. They had to draw a few horizontal lines to write the day and date on. Although I wrote instructions on the wall board, some of them draw a framework around the sheet , which I had not told them to do. others drew vertical lines. Some found it difficult to place the lines in the right place. After that the sheets were sewn together in the centre, and a booklet was made. There were students who forgot to put the days or the months on it. In the end it turned out all right for most of them.
The next job was to make a small bag to put their materials like pencils, scissor, needle and pin booklet, eraser etc. in. They were given a piece of cloth, thread to make a cord, a piece of carton with eight colours of sewing thread on it, a booklet with some pins and needles and a small piece of cloth to write their name on, which had to be sewn on the bag. In spite that not every one knew the different stitches for sewing the bag, the result on the whole was adequate. (Point of improvement for next course: to start with a sample for learning different stitches.)
After break the class assistants were appointed and told to assist in making tea and lay out the snacks the next day. Wrote the six letter word on the wall board. (A circle was divided in six "round cake" parts. In each part was written a letter of a mixed up word. The students who knew the word had to put up their hand. After a few minutes I pointed someone out to tell the word. Then I asked who agreed. After a few days used eight letters, and when the students got used to that exchanged one letter for a question mark. Apart from one word, which was made by a student, they all were discovered. Twice I told them a riddle, which they enjoyed too.
We sang Baba black sheep. I told them that they were going to turn it into a play act to perform in a show at the end of the course. Explained how the show would go.
A conversation developed, I cannot remember how it started. Someone said she loved Botswana because it is a democracy. Someone else said that Botswana respect white people for their colour. I explained that not all white people deserve respect, neither that all black people do not deserve respect. The difference in colour only is for people living in countries where the sun shines a lot and fiercely to protect their skins against the amount of sun-rays. While in countries where the sun does not shine so much the colour helps to absorb the sun-rays better. A student said that Botswana respect the English and Dutch because they had given independence to Botswana. ???? "And who had taken away the independence in the first place?" I asked. No one knew. "The English did that."I told them. That they did not understand, at least, no one said anything. I took the hat of the student who had made this remark off his head and said: "I now have stolen your hat. You cannot do anything about it because I am more powerful than you are. I let it and earn a lot of money. After a while you become angry and want your hat back. Which I deny, because I am earning such a nice lot of money with it. But then you become furious and I become scared that you are going to kill me, so I return the hat to you." After which I placed the hat on his head. There was no reaction. Continued with working on the diary, material bag and copying and translating of the text of the song on the wall board.
The evening students made the same handicraft works, but no songs, 6 letter words, riddles and discussions.
Wednesday 23 August. Group 2. The same activities as in group 1.
Thursday 24 August. Group 1. Activities: Paper weaving. In a card strips of 1 cm wide were cut up till 1 cm from the side. Another card was cut in strips of 1 cm and woven into the first card. The sides were fixed with cello-tape. On another card the students drew a tree with underneath a tree strip which later would be folded backwards so it could stand up. On the drawing line holes were made close together with the prickers (which Henk had made, one for each student), so the tree came separate from the remaining of the card. The left over piece of card was glued on an A4 sheet, which had printing on the backside and had been brought from home, and was the beginning of a drawing. Just like last year, there were students who coloured the clouds blue and left the sky white. I asked them what they saw outside. It took some time before they noticed that the sky was blue and the clouds white. "Unless it are rain clouds." someone remarked. Some students coloured the clouds over with a pencil to make them look grey and with raindrops coming out. I told them to bring a small box the next day to make a box house. In Botswana many people put 4, 5, or even 6 table-spoons of sugar in their tea or coffee. The tea I gave them only had 2 large teaspoons of sugar. Several people asked for more. One of the students agreed with me that too much sugar and salt was harmful for one's health. After the break she explained this to the students and what the consequences can be.
Every day two students have introduced themselves. Everybody knew who they were, but I did not. Some of them found it difficult to talk about themselves. (One student could tell nothing about herself. Next day I asked her to come to the front of the room again and was questioned by the others. This worked well.) After that, the students asked questions. I told them if they did not want to answer a question they should not do it. In the end, the students explained why they liked this particular student.
The evening students all had brought a box, they made the "box house". The box was opened up, so it became a flat piece of paper. On two sides, the "sides of the house", windows and doors were drawn and pricked out on three sides so they could be opened. The paper was folded into a box again and stuck together with glue or cello-tape. This time there was no one who pricked out the whole window or door.
Friday 25 August. Group 2. The same activities as group 1. Again there was a lot of talking. Instead of giving a warning, I said: "A". And told them when I had arrived at "Z" they all could go home. Sometimes they were given two minutes "time out", which meant they had to stop working. Which they did not like. Once I was standing in the back of the class. Because I suspected some were working I walked up to the front. I was right, which in fact was a good sign, they did like the work. I told them they were like small children who without supervision did things which were not allowed. When I had to leave the classroom, at my return they would be talking. Sometimes I said before leaving: "You have permission to talk now, if I forbid it you will do it anyway." No one gave a reaction to these remarks.
Saturday 26 August. Did some odd jobs. Placed two extra tables in the back of the room to store the materials for the lessons. One of the students is quite large, She was sitting in the middle of a row of three students and found it difficult to get out between the chairs and tables. I shall tell her to sit in the back.
I noticed that in the preschool class the posters which had been removed had been put on the walls again. I have the impression that the class assistant was not pleased with my advice after all. I shall leave it like that. Went for a long stroll. Discovered a dry river which went under the main road. Tomorrow I shall continue underneath the road to the other side.
Sunday 27 August. Was woken up by an alarm clock which had been put on repeat. It kept me awake for an hour. This was to happen during later days, sometimes at 1.30 am. Three weeks later someone told me it was a young rooster crowing. And one morning he walked past my room. I thought: "Look, there goes the alarm clock." Nothing special, An alarm clock is supposed to move around (anyway, the hands) and a rooster is supposed to wake people up. I followed the river bed under the road. It consisted of rocks, sand and pieces of stone. It went up to a cluster of houses, where I turned back.
I have told the director that I wanted to talk to her and her husband about their question of SEMK sitting on the Board of Governors. An appointment was made for the next morning at 9 am or 9.30 am. Have told Henk about the question and told him it did not seem like a good idea to me. He agreed completely.
Monday 28 August. Heard nothing about time of meeting. At 10.15 am I went to ask if the time was to be 9 or 9.30 am. The director was not present, he was held up somewhere. The meeting was then planned for 3 pm. Went to the shops. After returning, continued with the pictures for the preschool day schedule. Went for the meeting at 3 pm, director was not back yet. Meeting postponed to next day 8.30 am. Continued with preparations. Director, teacher and another man came to ask for the key of my classroom (there only was one key for the classroom and the outside door of the building) because the tables and chairs were needed for next day's exams. (I thought the exams had started today???)
Tuesday 29 August. In addition to the song "Twinkle twinkle little star" I shall tell the San story about the origin of stars. The text, as is translated from the San language by William Bleek around 1900 is rather incomprehensible, I have put it in more simple English. One of the students I have given the text so she could summarize it and tell it in her group. Went to the meeting with the directors to tell SEMK shall not join the Board of Governors, because from The Netherlands we will not be able to see what is going on in Botswana. The director was of the opinion that we could see it but he respected our decision. He would make a report of what had been discussed and give me a copy. (Did not receive it.) Went to the classroom, the handyman had put the clock which was left behind last year on the wall above the wall-board. Since the start of the course it had been standing on a table in front of the room half hidden behind a pile of materials.
One of the students asked my advice for setting up a business for sanitary towels. The government gives students free sanitary towels and she thought if she had them made she could sell it for a lower price to the government. I explained it would be a quite a job to set up a qualitative production line. She would have do do research in how to make it, buy machines for production, product checking and many more. It would quite certainly not be cheaper then if the government bought it from existing companies. She thanked me for my advice. She wants to be a teacher, after that a lawyer, help parents to bring up their children and give information on AIDS/ HIV. She wanted to keep in touch with me, so did our sponsored student D. He is happy, and so are his parents that we are going to pay his exam- and graduation fee.
Wednesday 30 August. During my stay in Ghanzi I had a meeting with de social services department about Xwaa. The social worker who had been responsible for him had been detached to another place. Contact would be made with her to see how far she had gotten with the case. As no message had come yet, I decided to see the Ombudsman in Gaborone. From The Netherlands I had not succeeded to get in contact by email neither telephone, though we got a bill for telephone cost. (Someone in Botswana suggested I might have called the fax, which would explain the cost.) The bus was full, I had to sit on the top of the stairs. Later there was space on the engine block to sit, from where I had a nice view. A passenger told me how to get to the office of the Ombudsman in the Queens Road. A flight of stairs would bring me to there. I could not find the stairs and no one knew where it was, so I took a taxi. I remembered the building from an earlier visit to the town. The Ombudsman had time to see me straight away to listen to the story. His advice was to see the Local Governments Department, they could help to find the boy. His secretary called the secretary of the secretary of the Honourable Minister of the Local Governments to announce my visit. It was nearby but still difficult to find. The secretary of the secretary was a friendly woman and wrote down the story with a small bit of pencil on a small old note block, while we were disturbed by people who kept coming in to ask her something. A woman came in with two children. The secretary went down under her desk and produced some bottles of water. Then she left the office and returned with some tinned drinks and gave the children one. After a while they went into the office. When the woman came out she said: "They will behave themselves." She also got a drink from under the desk and left. People went in and out of the office. Then the secretary of the Honourable Minister came out and called: "Come boys, we are going to look for lunch." Grandpa had been looking after his grandchildren during his work! For me the department could do nothing, I had to go to another department. I mentioned being too tired for that, in spite that transport was offered, for which I had to wait one and a half hours because it was nearly lunchtime. The secretary called the office and explained the case. It turned out that I also could go to the social services department in Molepolole. She rang them straight away to say that I would come to see them in the near future. As I had brought little money (being scared it would be robbed) there was not enough money for a taxi. The secretary walked me to the bus rank which was indeed very close by. She said that this road was very dangerous for white people, Even she had been robbed one evening. At the bus rank she asked a woman who was getting on the same bus to look after me. She asked the stall keeper where I bought a banana if I could use the chair in front of it until the bus left, asked me if I had enough money for the bus and looked on while I counted the money.
Thursday 31 August. At 8.30 am I called the Social Services for an appointment, for which I could come immediately. Told the story and was sent on to another social worker. Told the story again. She would contact the social work department in Ghanzi and they would call me.
Friday 1 September. Group 1. The tables had been replaced in the classroom, two were missing. Also the two tables in the corridor. The teacher who took them out promised to bring them back which did not happen, and I took two from another classroom. Student L gave me seven pieces of sugar can, about 45 cm long, weighing 1,5 kilo. They came from her garden. The day before she had given all the students a small piece and I asked if she had one for me, but they were finished. Seven pieces is a lot, but they could be kept until returning home. The pricked out trees and the drawings were finished and the ghost doll nearly. (This was made from a piece of cloth in which in the centre a circle was drawn. A thread was tacked right round the circle, on the backside of the piece of cloth stuffing was placed and the thread pulled together until it became a little ball. That was the head. Eyes, nose and mouth were embroidered on it and pieces of knitting yarn were sewn on it for hair.)
In The Netherlands I had copied drawings from a booklet with exercises to learn to write. The students traced them by placing the example and an A4 sheet against the window. They can copy them for their pupils after they have become a teacher. The story about the stars was told by the students but did not come across very well. It is about a girl who is put into a small hut by her mother and sometimes let out for a little while. She cannot gather food for herself. She is angry because her mother did not bring her enough food. Small children will not understand why she was in the hut. It used to be the custom to put girls during their first menstrual period in a hut. I decided not to use this song. For anyone wanting to know the end of the story: When next the girl was let out, she went to the fire, picked up some hot embers with her hands and threw them up in the air. She said: "All of you have to become stars and form the Milky Way. At night all of you must sail along the sky, you are red coloured. And when the sun appears your colour changes to white. When the sun goes down you turn red again and sail again along the sky."
One of the students was again feeling sorry for himself. He was not able to do something and disappointed about the low mark. But now he had had enough of it and made improvements on his drawing for which he got a higher mark and was very proud of himself. In spite of his moaning being irritant at times, he always made me laugh.
Last year I had given the director money to give the student we had sponsored for the past year pocket money, Pula 100 (about €11) on the first day of the month, or the first working day there after. From the student I heard that he had received it, but he always had to ask for it. The director showed me the list which had been made by me and said proudly: "Look, I have given it. Last week he came for it because his money was finished." My reaction was: "I had expecting nothing else. But on the paper it says that is should have been paid every first day of the month." "Is that so?" The signature of the director was behind every payment except for the last one, which was due on 1 September. I asked where the signatures of the student were. "That is not necessary, I have given it." I explained that her signature no prove was that he had received it. And was she going to pay him today? No answer. ( The payment was a week later, the student had to ask for it.)
During the break teacher V asked if he was offered a cup of tea too. The student who shared them out said curtly: "No, it is only for students." When he insisted she said no again. The teachers V and A can be so awfully irritating.
Saturday 2 September. Student D brought the answers to his test papers. Either the education is very bad, or he is. The answers were rather simple. With red pen was written on one: "Your English grammar leaves much to be desired. But what can you expect from students coming from an environment where Engels rarely is spoken and teachers are not fluent in the language either? I wanted to add a reaction for the teacher underneath: "Your handwriting leaves much to be desired." as it was difficult to read. Went for a stroll and did preparations for the lessons.
Sunday 3 September. Went to the class room with student D and had a constructive conversation about his tests, Told him about the discussion with the students who respected the English and Dutch for giving Botswana independence, and about the European suppression of Africa on the whole. It was all new to him. (Later the director told me this was told at secondary school.) Did some more preparations.
Monday 4 September. Group 2. Students were very boisterous, have given time out twice. Told them if they did not listen, I might as well go home. Did they want that? No, that was not what they wanted. Sung "There were 5 in the bed", which was very suitable for a play act. Five students were standing side by side and held up a sheet in front of them (that is, they will during the performance) up till their chin, like they were lying in a bed. In turn they were pushed out of the bed by the smallest one who was lying in the middle. The one that was pushed out made loud protests. When only the smallest one was left, she stepped forwards while spreading out her arms widely and saying: "At last, now I have the whole bed for myself."
Last year teacher A had the colouring plates which I had brought copied for 25 graduates, according to him there were that many. They also could use them for their pupils when they had become a teacher. However, there were far more graduates than 25, so I gave them to him to store them. When I asked for them, he did not know where they had gone to after moving from the old building to the new one.
Tuesday 5 September. Group 1. We started with singing "Happy birthday" to one of the students. She had brought two cakes to be eaten during break. I pointed out to the students the mess they had left on tables, chairs and floor. Told them there was a box in the back of the room to put the rubbish in. One student told me she had been boarding with a relative, she had left because things got stolen. When she went to collect her belongings, among other things all the materials I had given were gone. I suggested she should report it to the police, but first she wanted to solve it together with her mother. She only told me because she could not work without her needles, scissors, ruler etc.. Have given her a few things that were lying in the classroom and were spare. Rows of dolls have been cut out of paper. (Fold the paper into four, draw a doll with the arms stretched to the sides, cut them out and fold the paper open and hope a row of dolls will come out and not four single dolls.) Most of the students were successful. After that they were coloured. The fast workers were asked to make paper-chains to decorate the room where the show was going to be held. Announced that they had to bring small pieces of material to stuff the sock doll.
At 3.45 pm it turned out to be 4.45 pm, while the evening class should have started at 4.30 pm. (My clock had stopped and after winding it I had put it an hour back.) I quickly jumped into the car of someone who was going to the classrooms. The students did not blame me for it. There were two new students, I did not tell them to make the diary and material bag as there was no time for it.
Wednesday 6 September. Group 2. There was a lot of noise, sent two students with their chair to sit in the corridor to work. Teacher A brought the colouring plates. Had asked the director a large sheet of yellow manilla to make thank you cards for donors. I shall ask students to write in neat handwriting text on the front and in the middle the students can write their names.
The students came directly to my table to have their name registered. After a few days having told them to do this before going to sit down, this did not work. I wrote the request on a piece of paper and stuck it on the door, which did not work either. But the door always was open so it was not noticed easily. After I had closed the door there was an improvement. The students who still did not come I sent out of the room and told them that they had to look on the door before entering again. This worked.
Thursday 7 September. Group 1. To be heard above the din I used a whistle, which shook them up, but they soon started again. They worked well though, I could not keep up with them. I considered it best not to let all of them start on the sock doll at the same time, it would not be possible to assist all of them. However, I doubted later about this decision. Eight students were given a sock and stuffed half of it. They tacked a thread around the sock at the hight of where the neck was going to be and pulled the thread tight, The other part of the sock was stuffed and the bottom was sewn to close it. The eyes and nose (beads) were sewn on the face, the mouth was embroidered on in a chain stitch with knitting yarn. The hair was made in the same way as for the ghost doll. For the legs a division was sewn right through the sock and stuffing. The doll was placed on a piece of newspaper and a line was drawn around it, plus some extra space for the sides of the doll, as a pattern for the dress. Luckily everybody decided it was a girl, making trousers would have been more complicated. The pattern was placed on a piece of material and cut out, the sides were sewn together, the hem for the skirt and sleeves were sewn. The dress was put on the doll and pinned onto the neck. The shoulders were sewn together and the neckline to the doll. That was the intention, but some students left out some proceedings. They did not make a knot in the tread before starting to sew, or did not secure the thread when finished sewing, so that it came undone. It was unknown to them how to make a knot in a thread and how to put a thread in a needle. They kept on moistening it in their mouth. I showed them to cut of the thread straight, or get a larger needle. Again the problem of 28 students being too many to teach properly showed up. One of them often sat looking forlorn, because she did not have an example to copy or did not understand what to do. I told her to ask other students if they had a spare example. The students who did not work on the sock-doll made a "three double" prick card. In a card a large flower was pricked out, the card was glued on a second card. In the taken out part a figure was drawn, pricked out and glued to a third card. The left over parts were glued to an A4 and a drawing was made around it.
The evening students worked on the ghost doll, the three double prick card and the row of dolls and were to finish it at home. One student made a row of dolls four times, but ended every time with four single dolls. I sent the students at 5.15 pm. to their next lesson, which they did not want. When I left the building 15 minutes later the two teachers were standing there. We chatted for about ten minutes. Later I thought: "Should they not have been with their students? Why do I send them away if they do not teach them?" Friday 8 September. Group 2. I have written on the wall-board how many teaching days were left for each group. Only one of the eight students who was given a sock had brought stuffing for it. So all of them started on the three double prick card. Everything possibly went wrong. To prevent glue and crayons messing up the table tops I had put a pile of newspapers on the table in the back of the room. Did I see some one who had not put something under her work, I went to fetch a piece of paper myself. On one paper there was a card glued to it. It did not belong to any one, but there was a student who only had two cards. She insisted on having been given only two. And the newspaper with the card was not hers. In the end everybody had pricked out their cards more or less correct. For one student the row of four dolls turned out to be four single dolls. She was laughed at by other students who were at the point of making the same mistake. I told them it is not decent to laugh at someone who has made a mistake and asked them what the Setswana word "botho" meant. "Respect for each other." Asked if it was respectful to laugh at someone. They also did this when I reprimanded someone, for which I reprimanded them.
I pointed out the lighting in the classroom to teacher A. There is one light in the back part of the room, so the students in the front part did not benefit from it, as they were sitting in their own shade. According to him this was because the contractor had not contacted the managing board about the placement of the lights. But should the contractor not have been given an order where to place the lights? While I was explaining to him that one room which is in between other classrooms and a corridor, and had only one door and no windows, did not have a proper emergency exit for a fire or an earthquake, when he was called away.
The director gave me the list with the pocket money payments for our sponsored student. He had signed all payments and had received the last Pula 100, for which he had to ask.
Last year we had paid school- and boarding fee for a motor mechanic student. After four months he was sent away, or he run away, according whose version of the story you believe. With the remaining money we paid we paid for the present student: school- and boarding fee; exam fee; for the graduation ceremony the hire of a black cape and cap and lunch inclusive two guests. (At hind sight, I did not see a lunch being served to them last year, neither this year.) For this there was nearly Pula 800 short, which I have paid. I told the director that I shall not visit them next year, as I am occupied with home business. She understood. I told her I would let her know about my plans for 2019 by August 2018. She showed me the flyer which her 15 year old daughter had made to promote the pre school. It looked like it had been taken from the internet. Only one picture was taken on the premises, of the playground. Later someone remarked that it made her think of a South African school.
Saturday 9 September. I was just going to have my breakfast in my room when the director came to tell that he had reprimanded the two teachers because they taught only for money while I did it out of passion and had set me as an example. We had a chat in which he told me he hoped I understood the problems Nampol has. The thing I did not understand was why he had to tell me this early in the morning. Went to the classroom to make a proper list of the students attendance and marks for their certificate.
Sunday 10 September. Did some odd jobs.
Monday 11 September. Group 1. Everybody was busy finishing their work. After break I asked the students if they knew what they had drank. One knew, iced tea. I had made it with tea and lemonade. Did they enjoy it? No. And neither the pancakes with peanut butter. I asked them, why they had all disappeared. Had they given it to someone who did like it? No answer. I told them that I was considering to stop with the snacks and drinks. That I had risen at half past four to bake them. No one made a sound. Student S advised to stop. "If they do not appreciate it there is no point continuing." I have followed the advice.
As the classroom floor was getting increasingly covered with pieces of paper, cloth and threads, I had asked the cleaner to come after class to teach two students how to clear it up. This was not convenient, she often was busy at another place. I asked the director for a broom. She thought I could use the cleaner's broom. And what was she supposed to use?
The secretary (from here: secr) to teacher A wanted to discuss my suggestions for the show with me. How many chairs with a high back did I want for the guests and staff. Told her I did not want any chairs with a high back and neither a table standing in front of the guests. It was a party for the students, who should not be hidden behind chairs with high backs and a table would create more distance between them and the stage. It is the custom that important guests at a party or presentation are seated in front behind a table, tables and chairs covered with white cloth. I did not succeed to have the guests and staff sit on the plastic garden chairs like the students, and wooden chairs with less high backs were chosen. (During the show office chairs with high backs were used.) She showed me the programme. 1. Opening. 2. National Anthem. 3. Prayer. 4. Show. Like I had suggested. I wanted to have the show in the beginning of the programme because I expected the students to be slightly nervous. I would have preferred the national anthem and prayer to have been left out, but I know these are very important in Botswana.
One of the evening students found it difficult to concentrate on her work. Her three month old baby was ill. Another came in after 5 pm, in less than 15 minutes one cannot do much work and certainly not well. Helped a boarding-school student after supper to make the dress for her doll. Three students confirmed that it might be true that I might be killed for making muti. Muti are natural medicine, like the rino's horn. It is thought that albino's and white people are still in demand. It seemed strange to me, I never heard of tourists disappearing in Botswana. They said that even when I went to the shops I should go with other people. According to them the previous week a man had been killed for muti. They were surprised that I was not a Christian, or had another religion, Muslim maybe? I asked why they had become Christians.
They had gone over because of the muti custom.
Tuesday 12 September. Group 2. When I arrived at the classroom this morning I noticed I had forgotten the register. After walking back 75 meters I met a student. She wanted to be let into the classroom as it was still cold in the mornings. Started for my room again. The distance is over 400 meters, and after a one kilometre walk arrived eventually in the classroom. "If one does not use his head, he has to use his legs." True enough.
The students talked a lot. I asked what happened when they were talking at their school. They were slapped on their hand with a ruler, was the answer. Told them that I was going to do that too. It worked for a little while. Instead of slapping I gave them time out twice. The broom has been given and after the lesson the class assistants cleaned the tables, put the chairs on them, swept the floor and put the chairs back on the floor. Dustpan and brush were not brought (I did not ask for them, expected they would be brought), so they used two pieces of card board to pick up the rubbish. In spite of my warnings to the students to put the needles back in the needle booklet after use, there were some on the floor.
As the pre writing examples had faded after too much tracing, I spend the afternoon going over the lines with a pen.
Wednesday 13 September. Group 1. Took two telephones from students. This happened nearly every day. One had disappeared after break, the owner had decided the punishment had been long enough.
She had to hand it in again and got it back in the afternoon, in spite of her saying: "My father is going to call me" Normally I gave them back at 12 noon.
The new song was about a cat that had been to London, had visited the Queen and frightened a little mouse under her chair. Perfect for making a play. The chosen students who wanted to be the mouse could not keep in tune. Another one could but had also to sing a poem for me at the party. (It turned out the poem was cancelled, which was sad because she would have liked to be the cat.) A few tried but no one succeeded. After a couple of days I appointed three cats, which worked well. The queen was no problem, she had to sit on a table and not say a word or do anything. Student K offered to stand besides the queen to fan her. To find the mouse was a problem, most of the students did not fit under the small table. But a small student was prepared to play the roll. He was a perfect frightened, squeaky mouse, running away on hands and knees. Unfortunately, he hurt his knee and no one would take over from him. (During the dress rehearsal we found a student who was prepared to act for both groups.) To prevent the public from seeing the mouse under the table, we hung cloth on three sides of it. The students who did not have a solo act formed the choir and stood in a group besides the table so the public could not see the mouse crawling underneath it. One student suggested the cats should sneak up to the table to frighten the mouse.
Student K mentioned that to pay for his school-fee he worked four days a week from 2- 8 pm in a food store, on Saturdays and Sundays the whole day. He would try to get the Saturday off for the show, though in fact only the managers were allowed to have a day off in the weekends.
Thursday 14 September. Group 2. Before the lesson started the students were talking quit loud. I asked them what was so interesting that they had to raise their voices. One of them told that they were angry because the two teachers did not teach them, usually they were in their office. I was the only one who taught them. Yesterday they had given the director a letter notifying him of this. They paid a lot of money fr the course and wanted to be taught. If this did not work their parents would talk to the director. Talking during the lesson was less, everybody was busy with their sock doll. One student asked if he could design his own dress, which of course he could. In this group were two men, which was unfortunate for them as their voices were easily distinguished when they talked. "L, stop talking." I said. "That was not me." "No, it was my sister." I said. Once he came up to my table to have his work marked and announced himself as: "L, your sister."
Student K wanted the queen to be dressed as a beauty queen, wearing high heels and a low cut dress.
She should sit on the table cross legged and one hand resting on her hip, I explained the difference between a queen as a head of state and a beauty queen. This queen will wear a long dark dress, flat shoes and a crown. The cat(s) and the mouse are to wear dark trousers and the mouse was to run bare feet.
One student asked if she was going to get a certificate, if not, she would not come to the party. I asked why she thought this. She said another student had told her. The second student became angry and said that student one always complained that she was not able to do something. To stimulate her she had told her to do better otherwise she might not get a certificate. I explained that this was meant well. But, misunderstood. She was to get a certificate, even if she got F marks or less. (As it turned out, no one was to get a certificate.) Peace was restored. I removed one student to the corridor, she often was sitting back to front on her chair and talking with everybody. Sometimes I forgot there were students sitting in the corridor, most of them remained until I called them back.
In the afternoon ICT-staff member K helped me to design the certificate Nampol wants to give the students. It is printed on an A4 sheet with the Nampol logo. The description of the course and markings list. It will be signed by me as the instructor of the course. Tomorrow he will show me the concept.
One evening student had started on the sock doll, the others followed.
Later that evening two teachers from other courses came to bring the classroom key. They had noticed that I always was in my room and went no where else. One invited me to go with her to the stadion next day afternoon for a jogging session. Jogging at my age? I will see how far I get. It was meant kindly.
Friday 15 September. Group 1. One of the students had cut her finger and another one tied a piece of cloth, which was for stuffing the doll, around it. I did not consider this a good idea and told her I was going to look for a band aid. No one knew where the First Aid post was. In another classroom they sent me to the car mechanic garage. There was a First Aid cupboard hanging on the wall, without band aids, but had a pair of gloves and some unidentifiable objects. In the meantime teacher A had joined me. He knew there was a box in the pre-school. This contained more, but no band aids. He gave me some sticky tape and gauze, unsuitable to put around a finger. I went to my own room for a band aid. Back at the classroom I had walked more than one kilometre for one band aid. In the meantime the students were without their teacher. After class I mentioned all this to the director. She did not understand why there was nothing in the boxes, because they never used them. How did she know that? The receptionist got herself involved in the conversation, so I asked the director who I should tell the story to. Could be to both. What had the receptionist to do with this matter? I continued talking to the director. She told me the commission for the party wanted to talk to me about the show this afternoon. Told her I had an appointment. She wanted to know where. Told her that was not important. Could the meeting maybe held in the evening? That was possible. She wanted to take me to my room and was at the point of picking up my bag, which I quickly did myself and left. After lunch the director came, he thought I was looking tired. I told him about the band aid. He said at the end of the day he also was feeling tired. Told him that an incomplete First Aid kit might be unlawful. He told me again the story that in two years time everything would be in order.
The teacher who would take me to the stadion that afternoon walked passed my room, she was on her way to her lesson, which started at 2.30 pm. But we would be back by 5 or 6 pm. She could have told me this in the morning, when I saw her in her office. Did not get the concept certificate.Two students put me at ease, the muti story was not true. At 4.45 pm, no teacher. Went to the school building to lock it up. Teacher A made an appointment for the next morning to talk over the certificate. On Fridays there are no evening classes.
Saturday 16 September. Arrived at 8 am at teacher A's office, he arrived five minutes later and so did his secr. He announced that the certificate will be printed on paper with a watermark and the marking list on a separate sheet of printing paper. It will be signed by the director and principal (teacher A). I told them that in that case they will be responsible if there are complaints about discrepancies between the marking and the quality of the student's work. The secr considered this a legitimate note, which had to be looked in in the future. Discovered that Botswana uses the marking system A+ - B+ - C+ etc,, which is transferred into the numbers 9 - 1, which is transferred in percentages. I had used letters without the +, and told them to upgrade them all with +. Date of party is moved from Saturday to Friday. The reason: Two guest will be invited, the Paramount Chief of the district and someone from the ministry of Education. They do not want to work on a Saturday. I became again angry, as this means one day less teaching. Went to my class room to cool down. After a bit told the director that I was going away. I was not allowed to go far, as there was going to be a meeting at 10.30 am. Present at this meeting were the two directors, teacher A and secr. Teacher A told a very silly story about a superstition case, which I had to believe that it truly had happened. I asked the directors if they believed in it. Yes, they did. Told them they were daft to believe it, and also that this was a very impolite remark. No, it was not impolite. (Later they declared not to believe it.) Told them it would be better to start with the meeting as I had more things to do. Looked over the lay out of the classroom where the show would be held. Programme: 1, Opening. 2. National Anthem. 3. Prayer. 4. Speech director. 5. Show. Talked a long time about the refreshments for students, staff and guests. Teacher A and director insisted in having two cupcakes each, which became very irritating. Secr and I will order the cupcakes this afternoon, the shop will not have them in stock, and buy lemonade, cups etc. We could use the Nampol car and driver, which in this case was the director. We agreed to meet at 3 pm at the reception. I took the left over flour, sugar, tea, cocoa from my room to the director's house. At five minutes to three I was at the reception, after 10 minutes I realized the gate was locked, it would be better to get out through the back entrance and walk up to the gate. I met the secr on the way. Arriving at the gate their still was no car. We continued walking to the house of the directors. The director told that her husband was fast asleep. Why promise something and then not do it? I decided to take a taxi and make a phone call when we were finished to be picked up. But I did not have my telephone with me and secr did not have airtime on hers. Airtime for her telephone's provider was not available and the cupcakes had to be ordered coming Wednesday or Thursday. While collecting my own shopping and a two two litre pack grape juice for the guests (they could not drink the lemonade) we had some good conversations. Secr wanted to go back by taxi, I did not agree for in this way you strengthen their behaviour of not doing what they promised to do. In the end we took a special taxi (door to door, no other passengers, Pula 20 instead of Pula 4 per person for the taxi which only goes along the main roads), because the shopping was to heavy to carry from the main road to my room, about one kilometre.
Sunday 17 September. Last night at 1.30 I decided not to let the directors take me to the bus rank on 26 September, but to go to the Big 5 Lodge in Gaborone on Sunday 24 September. I think it is wise to relax and rest for two days before starting on a probably tiring journey.
Started packing the suitcases. From an old CD I made a clock, using pieces of cardboard for the hands, and wrote the numbers on it with a permanent marker, as an example for the students. Took two bags of oats to the director, one which according to the description on the packet was guaranteed vegetarian, but contained a few dead small beetles and caterpillars, and was to be given to the chickens. The director told that Nampol up till now had taken in all the students which enrolled, because it is a commercial enterprise. (Even in that case you should check whether these people are capable to follow the course? If they are not capable to complete the course, it is robbery.) They are going to turn Nampol into a Trust and in this way they can find sponsors so it will be possible to test students before they are accepted. I did not understand this at all. But I did understand why a board of Governors was needed and why we were asked to join it. With a foreign organization as a member they could polish up their image. There will be seven members in the Trust. (At the party I heard that the priest was one of them). The director told bout his Master study Education at a Spanish institution. Coming June he will take his exam and he and his wife will travel to Spain to collect his diploma and after that they will visit us. I was given some nice seswaa (meat) and a drink.
Monday 18 September. Group 2. Student L was early, she had arrived by night bus from the north of Botswana. She went there last Friday because her father in law was ill. She wanted to be back today as she did not want to miss the lesson. She did not have breakfast so I gave her my apple which I had brought for during the break. It was a busy morning. Some dresses were cut too small, or wrongly stitched. Took two telephones. Told them about the change of date for the show and thus also for the dress rehearsal, which will be for both groups on Thursday morning. Secr had told me I had to wear formal clothes for the party, the Nampol t-shirt (which I had been wearing during classes) was not formal enough. The students had to come in black clothes. These I did not have. (At the official graduation ceremonies a black cloak and head cap is worn, which are hired, It would be too much to use them for this simple occasion). The students had to check their name on the attendance list, a few mistakes have been taken out already.
Tuesday 19 September. Group 1. Told this group also about the change of date for the party. Student K who had been given the day off after all would try to change this again, but did not think he would succeed. Students were listening badly. The last marks would be given the next day so everybody wanted to finish as much as possible. Students were standing in a row to have the marks noted. Student L had made a nice traditional dress for his doll plus headgear. Sadly the dress had no seems and was stitched on to the doll with bits of material sticking out. In spite of the students having used the same pattern, the dresses were different. After break I forgot the introductions, in fact, there was no time for it. There was student protest, so I relented. Rehearsed all the songs. Student M told me that a few students were organizing a braai (barbecue) after the party, costing Pula 20 (about €1,90) per person. The queen has made a crown from yellow manilla paper. Student L made a clock from a CD. On the spot I thought up that it would be nice if the students showed their doll on a catwalk and told them. They found it an exciting plan. It was chaotic with students wanting attention to finish their work and others to get their marks written down. At 15 minutes past noon their still was a queue wanting their marks registered. I told them to return the next day at noon.
I have given ICT'er K the marking lists, he will start on it tomorrow.
Four evening students arrived at 5.15 pm, when the others were at the point to go to their next lesson. When I left 15 minutes later the two teachers were standing outside. Told them if they were not doing anything with my students, they might as well have stayed with me. No, because they were in the computer lab. Asked how they managed to keep them quiet while they were not with them. Teacher V said they were working on an assignment. In my opinion, even then should have been in the classroom with them. Teacher T, business course, returned the classroom keys to me. According to him, my presence and remarks had brought different things to the attention of the directors.
Wednesday 20 September. Group 2. I arrived at 7 am in classroom. Have asked teacher A what he has done about student K to have a day off for the party. He had talked it over with the director who had said that it was impossible to have all the students participate in it. (Later the director told me not to have said this. Even more so, there never had been a conversation about it. Who is telling the truth?) (Later I realized I had been fussing about nothing as the student starts work at 2 pm on weekdays.) I told the teacher he had to take care of his students. He told me that in the afternoon someone would be sent to the Paramount Chief with an invitation for the party. A bit late, two days in advance.
Also this morning was chaotic. Again forgot the introductions, again students asked for them. The songs went well. One actor had to be replaced, she had to attend a funeral on Friday. I told the students which handicraft item they should bring to place on the exhibition table. At 12 noon there was a queue at the door, the group 1 students came for their markings. As there were many things I had to do in the afternoon I told them to come back tomorrow. Tiredness and frustrations from other people not cooperating were bothering me.
Went to the Spar food store in the afternoon to order cupcakes, could be collected Friday at 8 am. At the food store Shoprite, where student K works, I had a talk with K's supervisor, because K was afraid he might get the sack about wanting to change again. Explained it was not K's fault, that there was no problem as he starts work at 2 pm on Friday, and asked if they please would not send him away. The supervisor smiled and said this was not going to be the case.
Thursday 21 September. At 7.15 am I met the director near the school building. He told me they had again run into a problem and did not understand why they had not seen it coming. He did not want to say anything about it right there and then. It did upset me though, and I forgot to write down a few marks on the list. Teacher A came to say he had to tell me something. When I insisted he confirmed my suspicion that it was what the director wanted to tell me. I said: "Ok, but after class." That was not possible, that might be too late. There was to be a meeting first and then he would come to tell me about it. He came during the dress rehearsal. The problem was that they did not have a budget for the certificates.???? It was not possible to give the certificates free of charge. I got very angry and asked if this was my problem. And did he have to bother my for it during the dress rehearsal? I sent him away.
There were some problems with the dress rehearsal, not everybody was present. Gave the students a knitted chicken and five colouring plates each and sent them home at 10 am.
I told secr there was no budget for the certificates and that I was angry because they had not asked my advice about the problem, because I would have paid for the printing. She advised against it, as she was sure that after I had left they would be given for free. This remark made me think, might they have told it in such a late stage to put pressure on me to pay for it? And was this maybe planned from the start? I told the secr this and she confirmed it. She had been at the meeting where it had been discussed Ze was forbidden to tell me. She had to tell me that the students could collect their certificates later after having paid for it, which she refused.She had been angry with the directors and teachers for the way they treated me.
She insisted I should use a larger classroom for the party, which I accepted. I hung up the paper-chains made by the students. Two staff members were cleaning the floor, set up tables for the cupcakes and lemonade and the handicraft works in front of the windows, and were cleaning the windows. When I came up to my classroom in the afternoon I found the door open, while I had locket it. A woman was teaching. I was told teacher V had opened it. (There was only one key?) The lesson was about the use of languages. The text on the wall-board contained some spelling mistakes. Brought the paper-chains to the room and hung them up. Secr had printed alternative certificates (half A4). (Congratulations You have successfully passed.) Passed what? They had to be torn in half, coiled and bound together with a ribbon. ICT'er K told us he was very sad and disappointed as he had been up till 2 am to prepare the original certificates and marking lists.
I informed the class representative K about the payment for the certificates, so that the students knew I had nothing to do with it. She was furious and told about other issues for which extra money was asked. I told her they did not really need the certificates as no one would understand what a box house, a ghost doll, a toilet roll doll and a three double prick card were. When they go for a job interview they have to bring these works anyway. Evening class. We chatted, told about the certificates and gave them the chickens and colouring plates. Sung Baba black sheep and Five in the bed and wrote the text on the wall board. Sent them away at 5.15 pm, but they stayed. Which made me sad, but I had to send them away. As excuse I told them the decorations in the other room had to be hung up. Outside the room pictures were taken. Teacher A wanted to be in it too, told him he was not funny. Also the students refused it. In the party room it was chaotic. They were still cleaning. I became irritated by people who wanted to help me with chores that were not my responsibility. The secr had asked me for 5 litre water bottles and a bucket to make the lemonade for the students. I did not have these and asked the director. Yes, she had them, at home. On the way there she went off with someone by car without saying anything. Her husband looked for the bottles but could not find them. He would ask his wife. I went to my room, where soon afterwards the director and the Nampol driver passed on their way to the hostel kitchen with bags of food. She promised to fill the bottles with water and put them in her fridge. Later her husband called me to say his wife had said she had spoken with me. And that I was such a good person and thank you. blablabla. I had a look in the boarding kitchen's fridge if it was working properly. The fresh food I had placed in it was the next day gone off. A piece of the insulating tape was broken off at the corner of the door, which made the insulation ineffective. The packs of grape juice which had been in it since Saturday were not feeling cold and the secr had put them already yesterday in her own fridge.
Friday 22 September. At 6.45 am the secr called me on her way to the school building. A little while later I too went. There were already several people in the room, the music played loud. A woman who was unknown to me interfered in everything, she wanted to clean chairs, put covers over them, moved chairs which I had just put in the right place, she irritated me no end. She realized that and wanted to leave, because she was not appreciated. It turned out she was the Master of Ceremony. I apologized, telling her I did not know who she was. At 8 am the secr asked who was going to collect the cupcakes. I said that she had organized this. Yes, but the Nampol car had gone to the students in the rural area and she did not have money for a taxi. (If she had paid it herself, she probably would not have got it back.) I asked the director for the money, who was sure that the car was still outside. After insisting she gave the money. The secr mentioned that the water for the lemonade was frozen because it had been in the freezer, and it was impossible to make lemonade with it. The containers needed to be placed in hot water. I asked the director why she could not just do as I asked her. Later I remembered that people sometimes confuse a fridge with a freezer. Five desk chairs with high backs were placed in front of the room, behind them plastic chairs. In the centre was a path for the catwalk.
The students were supposed to be in the classroom at 8 am, to go through the show once more, but only a few turned up. Outside small groups of students slowly approached, the director explained they had been to the reception to collect their Nampol t-shirt which they are supposed to wear on Fridays. We started at 8.30 am with reminding them of a few things for the show, which was quite useless there being so few students. At 8.55 we went to the party room. One of the students introduced me to her parents and two little brothers, they came to watch the show. In their Sunday best they stood looking expectantly at me. What to do? Family members were not invited, where did she get the idea from to bring them? I told her I was very sorry that they could not attend. Later I saw a woman and a little boy sitting behind the office chairs. The students had noticed on the programme that the handing out of the certificates was before the show. They did not like that, because it meant they had to accept the certificate while wearing their costumes, which they were wearing already. I brought it to the attention of the director and the handing out of the certificates was moved to the end. The poem that the student was going to sing for me had disappeared. In spite that I several times had insisted the programme should start at 9 am, at 9.30 I had to ask the director when we were to start. We were standing outside and she tried to look over the wall around the yard to see if the Special Guest was on his way. (The two invited guests had declined the invitation, so it had not been necessary to change the date). Instead a priest had been invited. I went to sit with the students, in front on the right side against the wall, to discretely give directions to the students on the stage. Teacher A came to say there was a chair with a high back reserved for me. "I shall stay with my students." I told him. The programme started at 9.40 after all, without the priest. After 10 minutes the priest arrived. In his speech he said: "It says in the bible" and stopped. A telephone rang, so it sounded like: "It says in the bible ring ring." The director's telephone went twice. Had they forgotten what the teachers used to say to the students: "No telephone in the class?" The show started slow, group 2 had more confidence. In one group the master in Baba black sheep was wearing faded knee length trousers with large tears in them, and was putting on gloves before the performance. She had not understood what an English Master is, in her opinion he worked at times in the garden. I told her that a Master never works, he has got his staff for that. The Master in the other group was wearing a long coat and started to drink from a cup and saucer after she had sung her part. The little boy did very well in both groups,the costume was cute and the pitched voices perfect. In one group this was played by a tall slim student, which made it the more funny. The mouse was a great success, people were really surprised to see it scurry out from underneath the table, especially when she dragged the clothes which had hidden her behind her. The chairs of the directors and priest were placed at the top of the catwalk, so they had a good sight on it, but left little space for the students to turn around. Which did not hamper the enthusiasm with which the students showed their dolls. The students who were wearing costumes left the room and went to the toilet room. I went after them, it turned out they were changing their clothes because they thought the show was finished. I told them they were not done yet and they had to hurry to get back. When everybody was on the stage again, they sang: "There were 60 in the bed, and the little one said, roll over, roll over, and 60 fell out." They all made a bow forward, three times and that was it. The priest said later that he was of the opinion that shows ought to be performed in all schools. For my speech I had written down nothing, did not think it worthwhile to spend time on it. The secr had advised to make it a formal oversight of what the students had done. (My suspicion that she was afraid I was to give vent to my irritations turned out to be true.) I agreed with that, it had to stay pleasant for the students. When I was given the stage the students began to scream that loud that I started my speech by saying that on arrival in The Netherlands I probably first of all had to buy a hearing aid, as because of their enthusiasm I had become deaf. I started with an oversight of the course for all attendees, and continued to talk to the students about the nice things that had happened. That I only had been able to give a few teaching examples which they had to use in a creative way. If they were to run into protocols which in practice did not give a good feeling, they had to change them. (Later the secretary told me she had expected more "bombs".) Told them they had worked and talked very well and with enthusiasm. I wished them all the best.
As a thank you the directors gave me a beautiful leather bag. One of them said that she was happy, because now she knew what to do with an old sock and an empty toilet roll. Her husband asked if someone would like to come forward to explain why they liked me. That was nice.
When it was announced that the students had to pay for their certificate there were protests, but no one stood up to make clear they did not agree. It was announced that there were snacks and drinks in the back of the room, but not that they were from me.
After lunch student S past my room, she told me she was missing me already and started to cry. Went to the school, the barbecue was on already with big sausages and large pieces of beef with a large bone. The music equipment was still there and there was dancing. The students thought it funny I joined the dancing. All my irritations and tiredness disappeared. Around the braai there sometimes were six people turning the sausages and the beef with their hands. When cooked they were placed in a dish and later were divided on the plates. There nearly was a fight when it was discovered there were students who had not paid but wanted to eat. One of the boarding students could not attend as she did not have Pula 20. I gave her Pula 20, but did not see her. (When I told her later to have missed her, she said not to have been. Her friend did not have money either. I asked her to give me the money back, which she did next day.) Had some nice conversations with students and danced some more. Meat, pap (porridge) and fried cabbage eaten from a paper plate, and drank two carton cups of wine. Near the end of the party teacher A came and was talking to some students. What did he have to do there? It was dark when everybody left. When I arrived at my room, a boarding student asked when I was going to leave. I had completely forgotten the farewell party I had promised them. Told them it would be held the next evening.
Saturday 23 September. The two students who I had offered the left over handicraft materials for taking to the pre school they were working at, came exactly at 10 am. They took everything. Secr came with the left over grape juice, which we finished and we also at a cupcake. Continued packing the suitcases, and repacked them a few times to take back as much as possible. Left over lemonade was diluted for tonight. Written on the classroom clock the name of the cook: "S' property. Given by Corrie Scholtheis on 23.9.2017." The cook never knew what the time was as she could not read a clock. As she knew little English I called for the handyman to translate. He had to tell her that when she leaves Nampol she should take the clock with her as it was her property. I also asked him to hang it on the wall. Now she could practice reading a clock.
At 5 pm the secr came, we were going to the shopping mall in Molepole to have something to eat at the Kentucky Fried Chicken. First we went along the shops and chatted a lot. At the KFC we had a kind of chapati filled with a piece of chicken, mayonnaise sauce, tomato. paprika and the like. And a milkshake made from whipped cream and crushed fruit ice. It became dark, so we left quickly, being scared to be robbed on the dark road to our room. (Secr had a room besides the Nampol hostel.) Outside large flocks of starlings were sailing above the trees which created a spectacular sight with the dusky sky in the background and lighted by the lanterns from underneath. It was a surprise to hear them make the same sounds as the Dutch starlings. We took a special taxi and continued straight to the farewell party of the boarding school students. The lemonade and cupcakes were appreciated. I told them that because of their friendly company I had felt safe and relaxed. One of them said, also on behalf of the others, that they had enjoyed my company too and wished me a safe journey home.
Sunday 24 September. The director called to ask what time I wanted to leave. They are coming at noon, but arrived five minutes early! During the ride her husband told me about the latest political news and we had a discussion about it. He also said that in every school class there is a member of the Secret Police, usually the student who was the most diligent. "Are you telling me that now." I said. "I did not want to take away your spontaneity." was the answer. Or did he want to make things easier for the spy in my class? Maybe the secret police places sometimes a spy in a class, but I do not believe this happens on a regular base.